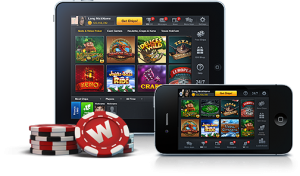 Flash casino games are popular with players for several reasons.  First of all, why would you bother downloading software you might not even like when you can load it in your browser instantly?  This is especially true for players who have slower than average internet connections.  Secondly, Flash casino games can be played on Windows, Mac, or Linux computers.  This is a major advantage since, prior to this, Mac users were unable to access the games on their PCs.  Other advantages of Flash casino games is that you can play the games from any computer.  As long as you have an internet connection, you're good to go. You also don't need to worry about downloading any viruses and/or spyware!
The only real disadvantage is that there might not be as many Flash casino games available as there are in the download suite.  On average, casinos may offer a third as many Flash casino games as they do downloadable games.  But when you think about it, is this really a disadvantage?  After all, most gamblers will stick to playing the games they like; not every single game offered.  So, as long as the casino offers your favorite games in the "Instant Play" format, then you really have nothing to worry about.
In terms of quality, Flash casino games are essentially the same as the downloadable games.  Downloading a full software package can take up between 100MB and 250MB of space on your hard drive. By using Flash casino games, this memory can be applied to other processes.  With Flash casino games, only temporary files are added to your PC's system, most of which are cache files, which can be removed to free up even more space.
Types of Flash Casino Games
While casinos initially offered a select number of Flash games, now there are some online casinos that offer Flash games exclusively.  It's not difficult to find hundreds of Flash casino games online.  These games include all the traditional table games such as roulette, poker, blackjack, and craps.  There are dozens of slots games, as well as arcade games like Keno and scratch cards.  These games can be played for free, or for real money.  Just like with the downloadable games, players need to register and make a deposit in order to qualify for any sign-up offers the casino may provide, as well as real money winnings.
The Future of Flash Casino Games
In today's world, consumers are increasingly demanding products that are efficient and convenient.  Flash casino games deliver on both fronts.  The games are fast without sacrificing any quality and their portability means that they can accommodate any schedule.  Players save time because they no longer need to wait for the software to download.  It also gives them a better way to try out multiple casinos because there's nothing to uninstall.  They can simply launch a game, test it, and move on if it fails to meet their needs.
The current wave in online casino gambling is mobile gaming.  As Flash technologies continue to evolve, they will likely continue to form the basis for these mobile applications.  Flash casino games are no longer limited to personal computers and laptops.  They can now be played on tablets and smartphones too, taking cross-compatibility to new heights!