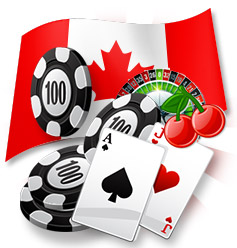 Online gambling in Canada is about to change.  Ladbrokes, one of the largest bookmakers worldwide, has announced that they will be leaving the Canadian market.  Although Ladbrokes hasn't indicated this specifically, it is suspected that new gambling rules in the UK are behind the British-based bookmaker's decision to no longer participate in online gambling in Canada.
Despite their relatively longstanding involvement in online gambling in Canada, Ladbrokes has announced to their members that they are leaving the Canadian gambling market as of October 1, 2014.  Canadian players have 30 days to issue a withdrawal request.  Furthermore, Canadian players' bonus balances and winnings that are pending due to unsatisfied wagering requirements following this 30 day period will automatically be forfeited.
In terms of online gambling in Canada, Ladbrokes offers casino, sports betting, and online gambling.  According to Ladbrokes, the decision to abandon online gambling in Canada follows a comprehensive review of Canada's gaming laws by Canadian regulators.  It's unclear which "review" Ladbrokes is referring to here.  In early 2014 the Canadian government indicated that they intended to enact legislative amendments that would further hinder money laundering and terrorist financing.  For many offshore operators this new development in online gambling in Canada sounded eerily familiar.  It hearkened back to the infamous Black Friday crackdown on internationally licensed casino operators in April of 2011.
However, these amendments only affect licensed Canadian lottery operators, and therefore, Canada remains a primarily grey market in which operating an online gambling establishment without holding a license from the Canadian government could be interpreted as being illegal but is largely ignored by provincial authorities.
Online Gambling in Canada:  Mass Exodus?
While unexpected, Ladbrokes' departure appears to coincide with a recent trend wherein key UK-facing casino operators are leaving Canadian as well as additional foreign markets.  And, although Canadian regulators may have contributed to this decision, it appears that recent amendments to UK legislation that are being implemented are more likely to have formed the impetus for this change.
There's been a fair bit of hullaballoo about the point-of-consumption tax that will soon take effect.  This new amendment requires UK operators wishing to engage in the UK market to meet licensing, regulation, and taxation requirements.  Previously, these were managed by white-listed, government-sanctioned international jurisdictions.
Consequently, UK licensees will be required to supply government agencies with a legal justification in order to operate in markets where they don't hold a specific license. This will prove challenging for gaming companies like Ladbrokes since only 0.5% of their total revenue comes from Canadian players.
The Future for Online Gambling in Canada
Ladbrokes isn't the only operator pulling up stakes in Canada.  During the summer, UK bookmaker, Betfred, also announced their withdrawal from Canada, Sweden, Germany, the Netherlands, and several other markets.  Ladbroke's largest UK rival, William Hill,
Meanwhile, William Hill, Ladbrokes' biggest rival in the UK, has announced that, due to regulatory changes, they will be withdrawing from grey markets in South America and more than fifty other countries, all of which amount to one percent of their global revenue in total. Interestingly, Canada wasn't included in this list.
It's too soon to tell how the changes to UK gaming regulations will impact the online gambling landscape in the long term.  UK Operators will be faced with the decision to remain in familiar territory or take their chances in grey markets.