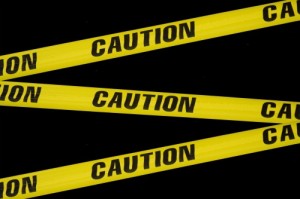 Rogue online casinos, otherwise known as blacklisted casinos, are casinos that have proven to be untrustworthy and unreliable.  Rogue casinos should be avoided at all costs.  They are casinos that have, in one way or another, violated the trust of their members.  There are several different ways that a casino can be deemed as being rogue.  Below, we'll outline some of the most common reasons why a casino might get blacklisted.
Rogue Online Casinos Do Not Pay Their Members
The main reason why a casino may be labeled as being rogue is that they don't pay their players.  Once this happens, online rogue casinos are almost immediately blacklisted and it is very rare that such a casino would be able to re-establish their reputation once this has occurred.  Not paying members is a cardinal sin in the online casino world.  Even fellow operators have zero tolerance for this type of action because such a practice can affect the credibility of the entire industry.  There can be circumstances in which a player doesn't qualify for payment, and in such cases they should not be considered rogue online casinos.  However, the casino must take considerable measures in order to communicate with the players and explain clearly exactly why it is that they would not be getting paid.
There are numerous websites and portals that are dedicated to protecting players.  They often maintain lists of rogue online casinos that serve as an invaluable resource for gamblers.  In addition to listing rogue online casinos they also promote online casinos that have earned a good reputation.  If you're new to the world of online gambling, this should be your first stop.
Rogue Online Casinos Do Not Pay Their Partners
Many online casinos have marketing partners, known as affiliates, who receive a share of the casino's revenue in return for referring players to their site.  It's not uncommon that a casino would continue to pay their players, but not their affiliates.  When this happens you should definitely consider it to be a major warning sign.  Online casino operators know that if the word gets out that they don't pay their players they will receive a lot of negative attention and will probably lose most, if not all of their members before long.  However, sometimes they will withhold payments to affiliates in the hopes that they won't notice or complain.  If an affiliate does complain, and the accusations are deemed to be valid, they will usually be considered to be a rogue online casino.  This is because it's very likely that if affiliates aren't being paid, it won't be long before players aren't being paid either.
Rogue Online Casinos Terms and Conditions Aren't Player-Friendly

Another factor that casino lead to a casino being labeled "rogue" is unfair terms and conditions.  When the rules and requirements set out by the casino are hidden, unclear, or clearly disadvantage the players, this can be considered rogue behaviour.  Reputable online casinos will make any rules relating to casino bonuses, deposits and withdrawals very clear to the players before any wagers are made.  When casinos modify their terms and conditions as a way to avoid paying players their legitimate winnings they are sure to be considered one of the rogue online casinos.
Most online casinos are regulated and operate with the utmost care and concern for their players.  However there are always a few exceptions.  For this reason, be sure to do your research before depositing your money at any online casino.  By doing so you can be sure that your money is safe and you can focus on enjoying the games!