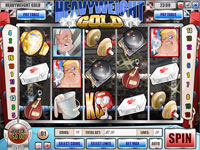 Rival Software came on the scene in 2006.  Although they haven't been around as long as some of the other online casino software providers like Playtech, Cryptologic, Microgaming, and others, they made their mark very quickly.  Through the introduction of their innovative "Islots" games, Rival software ushered in a new generation of online casino software.  In addition to these new and compelling slots games, Rival software also includes a variety of video poker and table games, and poker.  While the games offered by Rival software are fewer in number than their competitors, Rival software continues to expand on their original suite of games and may well surpass some of the other software providers before too long.
I-Slots: The Rival Software Advantage
I-slots are what has drawn players to Rival software powered casinos since they first launched back in 2006.  These unique games are not available at any other casinos and the casinos that do offer these games have successfully attracted a whole new breed of slots player.  I-slots are multi-payline slot machines that contain all of the regular features that you would expect to find in a multi-payline slot game.  These include wild and scatter symbols, multipliers and bonus rounds, free spins and more.  The coin range for each slot game falls between 1 penny and $10 per payline, with a max bet between 2 and 20 coins.
What really sets the Rival software I-slots games apart from regular online slots are the story telling features associated with each game.  Players will spin the I-slots slot machine reels in the hopes of triggering a bonus round.  When the bonus round is triggered, the story begins.  The stories that are told reflect the theme of the individual slot machine.  For example, if you are playing a "Medieval Castle" slot machine, then the story may contain knights and maidens and other castle-themed components.  With every spin of the reels, players are given the choice as to how they would like to proceed with the story.  In this sense, the player becomes the storyteller as they themselves will ultimately determine how the story ends.  Each time you launch a bonus round a new story begins.  Because players have so much control over the outcome of each game, players will rarely play the same game twice.  This keeps the Rival software not only unique, but uniquely exciting for gamblers.
Where to Find Rival Software
Rival software isn't as widely available as other software brands.  You might have to look a bit harder in order to find a casino that offers Rival software.  However a quick online search will reveal a list of Rival powered casinos and the number of these casinos continues to grow.  Another compelling feature of Rival software is that it is available to players who reside within the United States.  Additionally, Rival software is very popular with players due to the fact that they are known to give older slots games new life.  Rival will take an older game and apply newer features such as bonus rounds so that they can be enjoyed by a whole new generation of slots players and keep older players coming back for more!