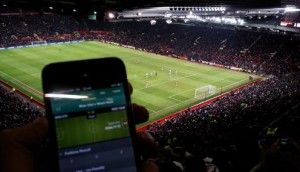 Online casino sportsbooks are, in the simplest of terms, websites that are dedicated to wagering on sports.  This involves making a wager on a specific outcome of a particular sporting event.  The main objective is, like any other form of gambling, is to win as much money as possible.  Bets that are placed with normally have two potential outcomes.  There are a few exceptions of course, such as spread bets and 'draw no bet' wagering, but two outcomes is the norm.  Based on the outcome, a player will either make money based on the odds offered by the bookmaker, or they will lose their bet completely.
In spite of the name, online casino sportsbooks aren't limited to just sports.  Although online casino sportsbooks certainly do involve betting on popular sports such as football, boxing, soccer, basketball, and tennis, they also incorporate wagering on events that aren't of a sporting nature.  Online casino sportsbooks often accept wagers on many other outcomes.  For example, bettors may be given the opportunity to place wagers on who might win a televised contest such as American Idol, on what the Royal baby might be named.  In addition to wagering on elements of the entertainment industry, online casino sportsbooks may also take bets on aspects of finance, such as the changes in interest rates.
Types of Wagers at Online Casino Sportsbooks
Fixtures are sporting events that have been scheduled to take place at a specific time and place.  Online casino sportsbooks accept wagers on fixtures, tournament results, as well as events that transpire within a fixture.  In order to understand the process better, let's look at a hypothetical example.  Imagine a football game between the New York Giants and the San Francisco 49ers.  Online casino sportsbooks would take bets on things like: which team would win the game (i.e., New York Giants beat the 49ers), the final score (i.e., San Francisco 49ers defeat the Giants 27-25), the Giants leading the game at half-time, and a specific player scoring a touchdown.
Online casino sportsbooks are often referred to as bookmakers, bookies, betting agencies, or simply sportsbooks.  Betting exchanges are different in that they provide services that set the odds for the wagers.  In the UK, people who bet on sports are commonly known as punters.  In the US, they would be known as bettors.
When bettors wager on an outcome they are "backing" that particular outcome.  Using our previous example, this would mean that a bettor who bets on the Giants to beat the 49ers would be said to be backing the Giants.  Although bookmakers will only let you back a given outcome, betting exchanges will let you wager for, as well as against, an outcome.  Lay bet is a term used for wagers placed against outcomes.  Again, using our earlier example, a lay bet against the Giants winning the Super Bowl would mean that you were wagering that any team other than the Giants would be victorious.  The only way you would lose would be if the Giants actually won the Super Bowl.
Online Casino Sportsbooks vs Online Casino Gambling
Online casino sportsbooks and online casino gambling are not one in the same.  One of the key differences being that casino gambling odds are known, while sportsbetting odds are merely estimated.  Casino games have a house edge that is measured with absolute certainty.  On average, bookmakers can provide accurate odds, but ultimately they are just making an educated guess.  Successful sportsbetting requires lots of research and a healthy dose of patience.