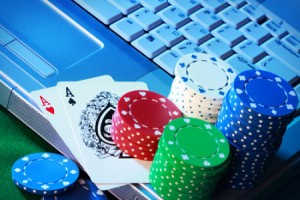 US online gambling has existed since the early days of the internet.  And, while the number internet gambling sites has been consistently on the rise since the mid-90s, recent headlines give the perception that it's a relatively new industry within the United States.  For almost twenty years politicians and enforcement agencies have battled with casinos over whether or not US online gambling is a legal and moral form of entertainment.
It was only in late 2013 that Congress allowed the first steps towards the regulation of this highly lucrative industry.  Delaware, New Jersey, and Nevada have now been officially sanctioned to offer online gambling services within their borders.  These online casinos offer the same games you would find in a brick-and-mortar establishment.  Online gambling revenues in New Jersey alone are expected to exceed $2.5M in 2014.
The path to regulation hasn't exactly been smooth and while there are still many who are opposed to it, other states are keeping a watchful eye with a view to joining in on the action.  Opponents claim that US online gaming sites encourage addictive behavior by making it too accessible to players.  Ironically, one of the most outspoken opponents is none other than Sheldon Adelson.  This is a man who amassed a huge fortune as owner and operator of land-based casinos.  Despite their claims to the contrary, there are many reasons why US online gambling is safer than frequenting a local casino.  Below you'll find the top three reasons why this is so.
US Online Gambling is Safer
Studies have shown a big increase in violent crimes, car theft, and larceny in communities that play host to land-based casinos.  Casino patrons are an easy mark for criminals.  They often have cash on hand, and may have had too much to drink at the tables.  Tourists are particularly vulnerable due to the fact that they are likely unfamiliar with their environment.  These issues are not a factor when it comes to US online gambling.  There won't be any waitresses trying to ply you with free drinks.  When you play at a US online gambling website you have complete control over your environment and your money is always safe and secure.
US Online Gambling Makes it Easier to Walk Away
Land-based casinos make more money by keeping players at the tables.  Every element of the casino is designed to achieve this goal.  Fresh air is pumped into the rooms to keep players alert.  There are no windows and lights are dimmed so you can easily lose track of time.  You also have to walk through a maze of walkways to find an exit and these walkways are lined with flashing slot machines that serve as a last-minute temptation.
When playing at home games can be stopped with a simple click of the mouse.  Of course there will always be those who struggle with personal willpower.  For this reason every licensed US online gambling site provides valuable information for anyone who may have difficulty knowing when to walk away.  There's no question, however, that it's far easier to close a browser than it is to find your way out of a brick-and-mortar casino whose main objective is to keep you at the tables.
US Online Gambling Keeps You in Control
The atmosphere at a land-based casino is intoxicating.  It's almost impossible not to be seduced by the flashing lights and sounds of the slot machines.  It's also hard to refuse the complimentary drinks brought right to your seat.  The excitement of the crowds is contagious and it's extremely difficult not to get swept away.  When you play at home you control your environment.  If you have any concerns about losing track of time and playing too long you can set an alarm to limit your play.  At any time you can get up and talk a walk, get a snack, or just take a break.  You're far less likely to get caught up in the fantasy when playing from home.  And, should you miss the social aspect of traditional casino gambling you can always try live dealer or multiplayer games to enhance your US online gambling experience.