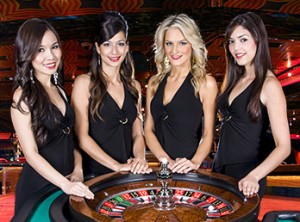 Live dealer roulette games have grown increasingly popular in recent years.  Live dealer games of all kinds are a huge draw for players who love the excitement of a "real world" experience combined with the convenience of online betting.  During these harsh economic times it is increasingly difficult for gamblers to spend the money necessary to travel to the casinos, let alone pay for hotels, meals, etc.  Playing at home is a great alternative because it not only spares gamblers these expenses, thereby allowing them to apply any additional funds to their bankroll, but it also offers greater flexibility.  There's no need to arrange work and family schedules to visit the casino.  A computer and an internet connection is all that's required.
The difficulty that online casinos have faced is the challenge to provide the same level of excitement that you would experience in a traditional, brick-and-mortar casino.  Live dealer games have been instrumental in filling this gap.  While the software still manages the transactions, the action itself is controlled by live croupiers via video streaming.  This is enhanced with live chat features that allow players to interact with the dealers and their fellow gamblers.
There are several different types of live dealer games offered at online casinos.  These include roulette, blackjack, and baccarat.  Below, we'll take a closer look at live dealer roulette, how these games function, and how they differ from the land-based version.
How Does Live Dealer Roulette Work?

Live dealer roulette is delivered to the player's TV, computer monitor, or smartphone screen by way of a live feed.  The casino maintains a studio, much like a television studio, where there is a set that resembles the interior of a land-based casino.  A series of cameras record the actions of the dealer in real time.  In terms of the live dealer roulette experience for the player, the only difference between playing live dealer roulette online as opposed to playing at the casino, is that wagers and communication is controlled by clicking the mouse.
Different Types of Live Dealer Roulette

Casinos offer a few different versions of live dealer roulette.  These include the following:
Mini Roulette – This game features a difference layout, colours, and a smaller wheel.
Rapid Roulette – This version of live dealer roulette is faster than traditional roulette. You'll want to choose this game if fitting in more bets is a priority.
Low Limit (Auto) Roulette – Just like it sounds, this game of live dealer roulette is a low limit game.
(Auto) Roulette – This is simply a higher stakes version of low limit live dealer roulette.
Live Roulette – This is the standard version of live dealer roulette.
Most casinos offer a few of these variations.  Some allow you to select a 3D environment as well as allowing you to select a European or an Asian dealer.
A Comparison of Live Dealer Roulette vs Standard Roulette

1. Live dealer roulette games operate faster than traditional roulette. This is because the live dealers don't need to pay each of the players.
2. Live dealer roulette games can be played for free.  Casinos won't allow you to sit at a table without placing a wager.  When playing online, you can register for free and test the games before betting with real money.
3. Live dealer roulette games aren't always available because the dealers work on a schedule.  Traditional roulette games are available 24/7.
There are other differences to be sure, however these are the ones that are more likely to impact you decision making when determining which type of game you want to play.