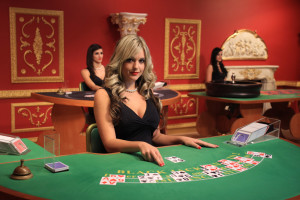 Live dealer blackjack gives online gamblers an opportunity to get a real taste of what it's like to play blackjack at a brick-and-mortar casino.  Because it's a relatively "easy" game to play but requires an interesting mix of skill and luck, blackjack is one of the most popular of all the classic casino games.  Players who lack the resources or ability to visit a land-based casino can still enjoy the experience thanks to live dealer blackjack games.  Technological advances have made it possible for online casinos to broadcast live dealer blackjack games to eager members looking to compete against real dealers at some of the top blackjack sites from around the world.  Live dealer blackjack is the ideal blending of online and offline gaming worlds due to the fact that it provides the efficiency and speed of virtual gambling with the realness of a live casino.
Online casinos keep their operational costs low by implementing random number generators (aka RNGs) to control the outcomes of their games. RNGs ensure randomness and along for a fair and trustworthy game.  However, the online casinos that offer live dealer blackjack don't use an RNG for these games.  A real, live dealer hosts the game while being recorded.  The video is streamed in real-time, so players can monitor the activity themselves, just as they would at any offline casino.
Live Dealer Blackjack: Getting Started
You don't need any special equipment in order to play live dealer blackjack.  Any computer with internet access should suffice.  When trying to locate a casino that offers live dealer blackjack, a quick online search will return numerous results.   Read a few reviews before you sign up so that you can benefit from the experience of other, possibly more seasoned players.   Live dealer blackjack is a lot more expensive and it requires a lot of effort to implement, therefore only the largest and most reliable online casinos are usually equipped to operate live dealer blackjack games.
Differences of Live Dealer Blackjack
Live dealer blackjack games differ from their land-based counterparts in that while players can view the dealer, they cannot see the other players at the table.  Instead, your fellow players will often be represented by an avatar of the player's choosing.  Although you won't be able to see the players, you can still communicate them via chat software that is integrated within the game.
Many of the bonuses offered by online casinos place restrictions on the types of games you're permitted to play.  If you play any of the non-eligible games they will not count towards satisfying the wagering requirements.  That being said, some online casinos do offer bonuses that can be used to play regular and live dealer blackjack games.  Because there is an element of skill involved, which allows players the opportunity to lower the house edge, these bonus offers tend to be less generous than a slots bonus.

Live dealer blackjack games are played at a slightly slower pace than the more traditional games of online blackjack, but they are faster than a game played at a land-based casino.  This is because the software takes care of counting bets and handling payouts, allowing the players to engage in more hands.  There's often an option that allows players to place multiple bets at the same time, which makes the gameplay even faster.
Even if you've never stepped foot in a real casino, the virtual experience of playing live dealer blackjack online is about as close as you can get.  It's fast, it's fun, and it's sure to please any true blackjack fan.