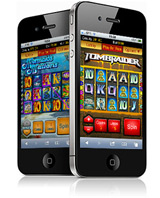 Mobile casino gambling means different things to different people.  If you took a poll of techies in Silicon Valley asking them to give examples of the "gaming industry" you'd probably hear about games like World of Warcraft or Call of Duty.  But if you asked someone from Nevada or Atlantic City you'd likely get a much different response.  People from these parts of the country think more in terms of casinos than what are otherwise thought to be "video games."  However, before too long there will be virtually no distinction between these two kinds of "gaming."
Many people believe that online gambling, including mobile casino gambling, will be legal throughout the United States by 2020.  Online poker will be accepted first.  Currently it is only legal in New Jersey, Nevada, and Delaware.  Over the next several years it will very likely expand as it becomes more widely accepted.  Because of this, it is highly probably that the same people building the mobile games of today will be the ones developing the mobile casinos of tomorrow.
In fact, this has already begun to a certain extent.  Zynga, one of the most widely recognized social games launched Zynga Plus Casino.  This was the first real-money gaming site in the United Kingdom.  This product was developed in partnership with bwin.party.  Bwin.party is a gambling company based in Gibraltar.  Bwin.party's revenues were reported being as high as $1.05 billion in 2012.  Unfortunately, due to the stringent anti-gambling statutes and interstate regulations in the United States, Zynga opted to keep their doors closed to US residents.
Mobile Casino Gambling and the UIGEA
The biggest barrier to mobile casino gambling in the United States is the Unlawful Internet Gambling Enforcement Act. This bill, enacted in 2006, put an end to all the major online casino, sportsbooks, and online poker providers operating within the US.  Operators of prominent sites such as PokerStars and Full Tilt Poker were indicted on charges of money laundering and bank fraud for conducting online transfers of funds to and from players' accounts.  Ultimately, PokerStars along with two additional defendants cut a deal with the prosecution, which cost them more than $731M.
Contrary to popular belief, the UIGEA doesn't target online casino operations directly.  Instead, the bill targets financial transactions that enable gambling.  The result was still a massive blow to online and mobile casino gambling.  After all, if no payment providers are willing to violate the UIGEA, then the casinos have no means to accommodate American players.
The UIGEA, however, doesn't apply within the borders of states that already offered legalized forms of gambling, or that had plans to offer it down the road. This isn't without its own set of complications though.  Businesses running licensed online casinos and/or poker rooms must operate solely within that given state.  It remains illegal to transfer of gaming funds across state lines.
These qualifying states are now busily vying to win your gambling dollars.  One of the best ways for them to accomplish this is to pay particular attention to mobile casino gambling.  Operators know how busy people are these days.  They also realize that in order to get players' attention, they need to make their products available for on-the-go play.  If you visit some of the biggest New Jersey gaming sites you will notice that they either offer a mobile casino gambling product already, or, like Caesars Casino, it's "coming soon."  As more states move towards softening gambling laws, and following the examples of Delaware and Nevada, it only stands to reason that the mobile casino gambling industry will be paying very close attention.