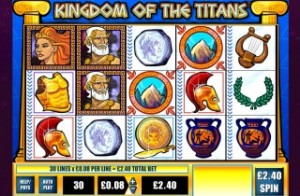 Online slot machines are beloved by millions of players the world over because they are easy to play and potentially offer gigantic windfalls.  This is a big reason why they are more popular than any other online casino game.  What you might not realize, however, is that in addition to providing lots of heart-pounding entertainment and the chance to win lots of cash, online slot machines also offer a vast amount of intelligence about the world in which we live.  You'll need to make some effort to extract this wealth of information from the games, but you'll be glad you did.
Back in the early days of online slot machines the symbols on the reels were often meaningless.  However, today's online slot machines are often based on a theme.  The symbols reflect this theme and understanding their meaning can lead to all kinds of interesting information of which you might not otherwise be aware.  Consider a Viking-themed slot machine for example.  The reel symbols would generally represent some aspect of Viking culture.  In the online casino slot game, Arctic Fortune, one of the reels features the symbol of a large horn with a variety of fruit spilling out.  A quick search on the internet reveals that this symbol represents the Horn of Plenty, something that is featured throughout much of European mythology.  The story tells of a horn that produces vast amount of fruit, thereby ensuring than nobody would go hungry.  You may recognize this symbol from Thanksgiving celebrations as well.  American Indian-themed online slots are also very popular with players. Here you may find a symbol that consists of a circular hoop decorated with feathers.  This is known as a dream catcher. Some American Indians believe that dream catchers can change a person's dreams simply by trapping the bad dreams and only allowing good dreams to filter through.
Online Slot Machines – Characters and Symbols
With some online slot machines this learning process applies to virtually all of the reel symbols. Many slot machines base their themes on stories from Greek mythology.  An example of just one of these games is Stash of the Titans. This slot game features lots of villains, heroes, and other well-known Greek characters.  These characters will be easily recognized by anyone who is familiar with Greek mythology.  However, anyone who isn't knowledgeable will undoubtedly be entertained by these fascinating characters and their famous exploits.  One of these popular stories involves Medusa the Gorgon.  Medusa famously turned those who looked at her to stone and was ultimately slain by Perseus. Then there's the story of the Minotaur, a monster with a man's body and the head of a bull.  The Minotaur feasted on virgins and young men until he was killed by Theseus.
The slots themes aren't solely based on mythology.  Some popular online slot machines are based on characters from great works of literature.  For example, Scrooge is a slot game that takes his cue from Charles Dickens' novel, A Christmas Carol. Symbols, reels, and animations are all based on characters from the famous tale. Many players enjoy these machines because in addition to the entertainment value provided by the game itself, players are also reminded of a classic Christmas story and can enjoy the warm sense of spirit that brings.
Although the classics are popular, they don't hold a candle to the Marvel superhero online slot games from gaming providers Playtech and Cryptologic. The Marvel comics have a rich history and the characters are legendary. Every superhero slot game delivers information on the character's alter egos, the origins of their super powers, their sworn enemies and weapons of choice. These intricate details that are woven throughout the fabric of the game bring the excitement to an even higher level. Because the online slot machines of today have an auto play feature, interested players have plenty of time to research the background associated with their chosen game.