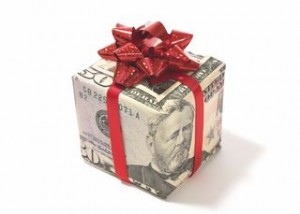 Deposit bonuses are one of the primary means that online casinos use in order to attract new members.  These seemingly lucrative offers will often be enough to entice new players to register.  However, more experienced gamblers have been debating the true value of these deposit bonuses for almost as long as the online casinos themselves have been in existence.  We've provided a quick rundown of the pros and cons below so that you can determine which side of the debate you fall on.
The most common type of promotions that are given out by the casino are deposit bonuses.  This is because the casino is guaranteed some sort of a deposit.  That, plus the fact that the house has an edge on almost every game, means that it's almost a certainty that they will recoup their "losses."  Once you accept the bonus offer you are bound to the casino's terms and conditions.  These are also referred to as bonus rules.  These rules outline things like which games can be played.  This often means slot games only; but it doesn't include progressives.  Sometimes you can find deposit bonuses for video poker or table games like blackjack, but these deposit bonuses aren't as generous.  With these bonuses you will usually have to wager twice as much in order to satisfy the wagering requirements that will allow you to cash out your winnings.
Deposit Bonuses:  The Cons
Wagering requirements are usually anywhere from 10 to 50 times your total bonus amount.  For this reason it is extremely important that you look closely at the wagering requirements prior to accepting any deposit bonuses.  Imagine that you take a $200 deposit bonus on a $100 deposit.  This would give you a bankroll totalling $300.  Now if this bonus has a 20 times wagering requirement, you would need to place $6000 ($300 x 20) in wagers before you will be eligible to cash out any winnings.  If the wagering requirement was 50 times, you would need to wager a whopping $15,000, which would be extremely difficult to accomplish.  Most people will go broke before they ever satisfy the play through requirements.
Deposit Bonuses:  The Pros
This doesn't necessarily mean that you shouldn't take a deposit bonus when it's offered to you.  Having a bigger bankroll does increase your odds of winning.  However, you need to make sure that the wagering requirements are reasonable enough so that you have a real shot at collecting your winnings when all is said and done. By refusing to accept deposit bonuses you won't need to satisfy any wagering requirements and you will be free to cash out your winnings right away.  Professional gamblers will often go this route.  They prefer not to deal with the hassle of a wagering requirements and not having to tolerate any game limitations.  But these gamblers are often starting out with a healthy bankroll.  Novice gamblers sometimes prefer having the extra funds to play with.  For this reason, determining whether or not deposit bonuses are a safe bet is not a black or white situation.  You need to weight the advantages and disadvantages carefully and then make the choice that suits you the best.