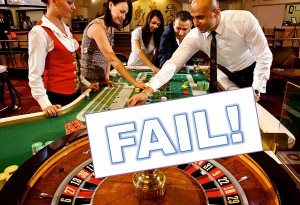 As far as pastimes go, playing at an online casino is pretty straightforward, provided you can avoid common online casino mistakes.  All you need to do is find a casino you trust, choose the game(s) you wish to play, and that's about all there is to it!  Of course, things are not always as simple as they might seem at first glance.  Casino operators are super savvy and if you take a casual approach to online gambling you could wind up falling prey to their influence, thereby making costly mistakes.  Below you will discover three of the most common online casino mistakes made by players when it comes to playing at an online casino.  And, more importantly, you'll find valuable information on how to avoid them.
Online Casino Mistakes #1 – Don't Ignore the Terms
A cardinal rule of playing at an online casino is "READ THE TERMS."  Ignoring this advice may lead to any number of online casino mistakes down the road; most notably, not being able to withdraw your winnings. The casinos will try to draw you in with big, juicy bonuses and promises of untold riches.  And while you just might strike it rich, if you don't check to see if there are strings attached first, you could be setting yourself up for a big disappointment.  Seldom will you find a promotional bonus that doesn't come with some sort of requirement.  It's your job to understand what those requirements are and whether or not you're prepared to accept them BEFORE you accept any seemingly generous offer.
For example, the type of games you're permitted to play in order to receive a bonus may vary.  You may be allowed to play any type of slot machine but no table games.  This becomes extremely relevant when the bonus comes with a wagering requirement.  Learn the ins and outs of any offer before you accept it.  If a slots bonus has a 20x playthrough requirement but you spend most of your time betting on blackjack then you'll be in for a nasty surprise when it comes time to withdraw your winnings.  Some offers are great and they can definitely increase your odds of winning, but some are simply too good to be true.  You won't know which is which if you neglect to learn the rules first.  If you can't find all the information you need within the Terms and Conditions themselves, or if some or all of it is unclear, contact customer support and request a full explanation.  They should be more than happy to fulfill your request.  If they're not, take it as an added sign; pack up your chips and move on.
Online Casino Mistakes #2 – Remember the House Edge
A failure to understand how the house edge applies to online gambling can greatly limit your opportunities for success at the casino.  This is one of the most common online casino mistakes.  Beginning players frequently view all bets equally.  They don't understand that taking ten spins on a slot machine is different than making ten bets at a baccarat table.  This can be a costly mistake.  Every game, and sometimes each different type of bet within the same game affects the degree to which the house maintains an advantage over a player.  By understanding the range of opportunities available to you, you can then set your sights on only the bets that give you the greatest odds of garnering big winnings.
The best way to avoid online casino mistakes is to do your homework.  Find out what the house edge is in every circumstance.  When the house edge is lower you have a bigger opportunity to pocket winnings.  You'll be well served to keep this in mind when selecting your online gaming destination.
Online Casino Mistakes #3 – Don't Push Your Luck
For the most part, and almost without exception, gambling at an online casino is primarily a matter of luck. This can be good news for many who don't possess the skills or inclination to become a poker or blackjack professional.  Each of these games have an element of skill involved whereby, with a lot of practice and devoted study, one can "beat the casino."  With games of chance, however, it's important to know that all good things can come to an end without warning.  Sometimes pushing one's luck can result in a substantial reversal of fortune.  Be grateful for your wins, no matter how big or small, and remember that being ultimately successful is a long-term proposition.  Celebrate your good fortune and don't be afraid to step away from computer before your luck has a chance to take a turn for the worse.
Obviously there are several other online casino mistakes that can be made when it comes to playing at an online casino.  However the tips listed here tend to be not only most common, but the most costly as well.  Follow the advice provided here and you should be able to sidestep these obstacles with ease.  You'll have a more entertaining and profitable gaming experience as a result!