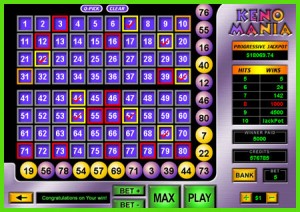 Online Keno a game that is popular with gamblers throughout the world.  The offline version is extremely popular as well.  Keno is similar in nature to bingo and other lottery-type games.  This is because the game involves guessing the numbers that will be randomly drawn and players are paid depending on how many numbers they guessed correctly.  The simplicity of the game and how easy it is to learn plays a big part on making the game a favorite among players.
The Basics of Online Keno
When you play online Keno you will be shown one or more Keno cards. The cards are numbered between 1 and 80 and are laid out in 8 rows that contain 10 numbers. To play, you simply check off between 1 and 20 numbers on the Keno card.  Certain casinos might restrict the amount of numbers that you can choose.  You might be given the option to select 1 to 10 numbers, 1 to 12 numbers, 1 to 15 numbers, or any amount in between.  Once the game begins and the random numbers are drawn, you can sit back and watch to see if any of the numbers you chose are a match.  If the numbers do match, you win!  The potential winning numbers won't be drawn until you've finished making and submitting your picks.
If you're thinking about trying online Keno, there's no need to jump in with both feet.  Although there are hardly any rules or strategies associated with online Keno, it can still be intimidating to try something new.  This is especially true when one's hard-earned money is on the line.  The great news is that, like with many other casino games, players can start playing online Keno for free.  Playing for free helps to familiarize new players with the available betting options and payouts.  You won't be able to pocket any winnings when playing the free games, but it will give you a healthy taste of what's in store should you ever decide to play online Keno for real.
Strategies for Playing Online Keno
In order to be successful when playing online Keno games for real money, you should determine how much cash you anticipate winning prior to placing your bet.  This might seem like strange advice given that it's impossible to control the game's outcome, but by doing this it will encourage you to place realistic wagers and it will assist you in managing your bankroll effectively.
Another tip to help you achieve online Keno success is to select the amount of your bet.  The size of your bet should relate to the amount of money you anticipate winning.  This will allow you to get the best results and maximize your enjoyment of the game.  Smaller wagers will make it possible to play longer, whereas bigger wagers will make larger payouts possible.  Ultimately, your playing style will determine to how you fare.  There are conservative players that like to place small bets and check off fewer spots.  There are aggressive players who select several spots and bet large.  It really comes down to whether your goal is to enjoy the game and the possibility of a few small wins, or if you want to go all-out, and run the risk of burning through your bankroll quickly.
No matter how you choose to play, online Keno is an unquestionably fun game that's super-easy to learn, and the potential payouts can be spectacular!